Alloy Wheel Repaired / Refurbished in Gwent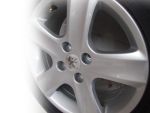 Alloy wheels are expensive at around £150 - £200 a piece and add a touch of class to a car but can easily become damaged by kerbing or general wear and tear / scuffs. That`s alot of money to find to renew the appearance of car.
Motaspray have the skills and equipment for allow wheel refurbishment / repair in Gwent South Wales and at considerable savings with an average alloy wheel acid cleaned, repaired and repainted for £70 to £80. We offer customers a discount if all 4 / 5 alloy wheels are refurbished.

Motaspray alloy wheel repair technicians can completely transform a cosmetically damaged alloy wheel back to its 'like new' - see our photo gallery on the right. Why replace your alloys when we can repair ?
Thinking of changing your car?
When trading in your used car, one of the first things the buyer/ dealer will look at is the condition of the alloy wheels and if they are damaged. With replacement costing anything from £150 upwards each, (excluding fitting and balancing), Motaspray can refurbish the alloy wheels and restore re-sale / part-ex value. Why replace your alloys when we can repair ? We know local garages throughout South Wales place a high value on the wheels when assessing the part-ex price they will offer because we have repaired many wheels for these garages when they are preparing your old car for re-sale.
Why pay exorbitant prices going to your main dealer for your alloy wheel repairs. As Motaspray repair specialists technicians we cover these dealerships in the Brynmawr, Ebbw Vale, Abertillery, Tredegar, Blackwood, Abergavenny, and Gwent areas.
List of wheels we have repaired:
BMW
Peugeot
Audi
Mercedes
Ford
Toyota
and many more
This is just a small selection of alloy wheels we have repaired in South Wales, even if your vehicle is not on this list, give one of our trained repair technicians a ring.
If you need a repair to your alloy wheel in Blaenau Gwent or indeed all of South Wales,
why not give us a call on 01495 290 900 or see the Contact Us page.
We are open: Mon-Fri 8.15am-5.00pm